Non-contact rapid mass screening system.

Fortechnologies is proud to be a leader in innovation.
Our one of a kind new and improved StripSensor is our latest innovation that we are thrilled to offer.
This innovation is based on 10+ years of success of our original StripSensor model that served as a first line of defense for businesses, customers, employees, friends and family during the H1N1 Pandemic.
At ForTechnologies, we strive to break the boundaries and provide one of a kind products.
Strip Sensor now has an app!
Download at the Apple App Store and Google Play Store
CE: Compliant with EN 50131-1, EN 50131-1-2-4 standards as defined by EU Council Directives 2006/95 / EC.
Certification of calibration by an independent accredited body

(EBRO Measurements DKD-K-46201).

Certificate of calibration of an independent accredited body

(VAL Electronic).

Certificate of Non-Risk of Equipment.
The StripSensor is seamless, sleek, and unmatched globally. This low cost solution is an excellent alternative for smaller entry points in both big and small businesses.
Our StripSensor is simply plug and play. This seamless non-invasive technology is quick and detects a person's thermal body temperature as soon as they pass by it-detecting 300 people per minute and an accuracy of +/- .02° C. This continuous, instantaneous detection allows people to continue about their everyday life normally without having to stop and stand in front of the camera to be detected.
There is nothing like this low cost, efficient, easy to operate solution. This is the best way to make people and employees feel safe returning to their everyday normal lives.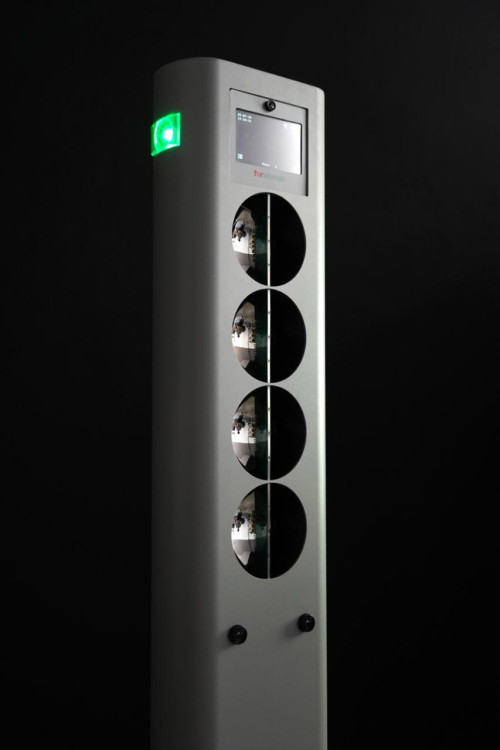 Call For Quote: 1.888.553.6783
The StripSensor is a multi-point temperature measuring system that has an automatic alarm based on user parameters. This system can be installed any door jamb, executive office, single door entry way, or, simply use our stand and place it freestanding in any entry way. Just walk through and instantly takes your temperature. Our LCD on the unit itself does all the work for you, just plug, walk through, and the StripSensor will display the temperature of the passing individual, if the individual possess an elevated temperature on the user-friendly settings then a red-light LCD flashes indicating further elevations.
Our StripSensor is plug & play- you don't need a person standing next to it monitoring the results- for those of you that don't want someone standing right there monitoring it, simply pull out your phone and download our app and monitor it from there. Operationally, this is very effective and saves money unlike many thermal cameras which require a high operational cost.
Other features of the StripSensor include wifi enabled, high resolution camera capturing elevated temperature events, a counting system, autonomous battery and full LCD display.
There is nothing like this low cost, efficient, easy to operate solution. This is the best way to make people and employees feel safe returning to their everyday normal lives.
| | |
| --- | --- |
| Auto-Calibration to compensate environmental conditions | |
| Adjustable visual & audio alarm | |
| Adjustable sensativity | |
| Adjustable temperature level alarm | |
| Measuring characteristics | |
| Frame rate: 50fps | |
Accuracy: ± 0.2° C
Object Temperature Range:
30° C…50° C / 86° F…122° F
Operating Temperature:
10° C…38° C / 50° F…100.4° F
Array of IR Sensors
Optimal measuring distance: 50 cm
Field of measuring: 80 cm (top to bottom) / 46°
Counting of people coming in and out
Optional: Digital Camera (Resolution:640 x 480)
CE Certified
Patent Pending
Software Tools
Desktop & Android Application for real-time measuring of data and alarm viewing.
Statistics
Historical data
Profile settings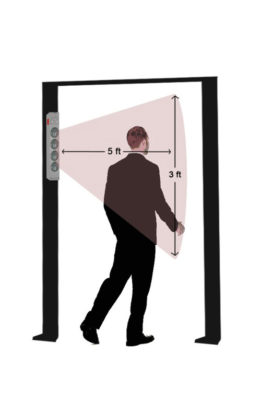 Call For Quote: 1.888.553.6783
Disclaimer:
Human skin temperature and its internal core temperature may vary due to wide array of environmental factors. ForTechnologies systems are designed to provide accurate readings that must be operated strictly in accordance with the manufacturer's Operating Manual. ForTechnologies Thermal Camera and StripSensor systems are not intended, nor designed, to diagnose or detect medical conditions including, but not limited to, viruses or other illnesses. ForTechnologies thermal and IR sensor systems should only be used to detect variations of surface temperature. In the event that an elevated skin temperature is detected, the subject should be immediately checked with an approved medical thermometer and the finding confirmed.