Transportable UV-C Floor Disinfection Device
The ForBroom is a collapsible, transportable device designed to disinfect carpets, tiles, floors, and other surfaces with the use of UV-C radiation.
UV-C Radiation has been proven to be the leading disinfection method to combat pandemic viruses. Due to potential user error, the CoDi has several precautions in place to avoid any direct contact of UV light to human exposure and can operate in the presence of people as most of the UVC radiation is pointed down at the surface.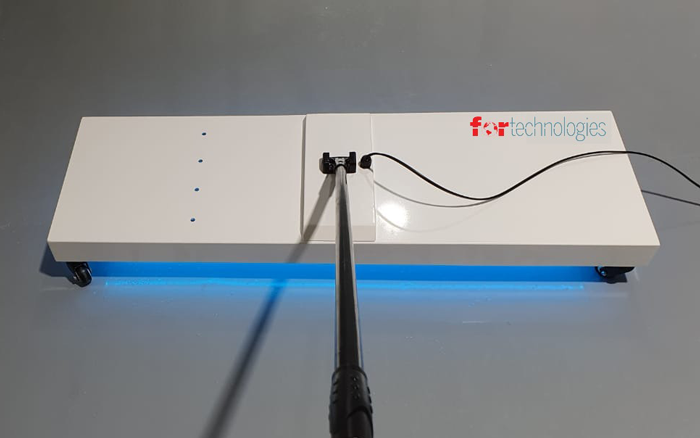 Equipped with four UV-C lights, the ForBroom utilizes UVC radiation 10 cm above the surface enabling operators to disinfect thoroughly and continuously without the need to recharge the device. This collapsible, transportable device is designed to disinfect everything from carpets, to tiles, floors and other surfaces.
It is primarily used in mosques, malls, warehouses, airports, offices, schools, and homes.
| | |
| --- | --- |
| UVC indicator: which displays indicator lights that notify the operator that each of the UVC lights is operational or if it needs to be replaced. | |
| Safety sensor: which automatically turns off the lights, even when connected to power, if the base is tilted beyond its horizontal orientation to avoid UVC exposure to the operator. | |
| Retractable Power Cord Button: which retracts the power cord to the compartment once the operation is completed. | |
| Collapsible Handle & Swivel Wheels: which provides ease of storage and transportability | |
| Rubber Skirting: which restricts any UVC light affecting the operator's feet. | |
| UVC Light Emitting Diodes: covering the entire spectrum of germicidal UV penetrate the cells and damage the nucleic acid, rendering them incapable of reproduction, or microbiologically inactive. | |
| No Human Exposure: Disinfection only occurs on the horizontal surface beneath the device so there is no human contact. | |
| | |
| --- | --- |
| Physical Specifications | |
| Dimensions (Extended) | 110 cm x 40 cm x 100 cm |
| Dimensions (Collapsed) | 110 cm x 40 cm x 27.5 cm |
| Electrical Specifications | |
| Power | 220V AC, 12V DC |
| UVC-LED Specifications | |
| Wavelength | 200-300nm |
| Lifetime | 10,000 hours |
| Warm-up Time | Instantaneous |