Electronic Sealing System for Trucks and Tankers
A wireless system for sealing and securing fluids on shipping vessels and tanker trucks during transport and unloading.
Call For Quote: 1.888.553.6783
ForFluid is a proven, innovative wireless electronic sensor system for sealing tank trunks and transport ship bunker fuels, ensuring the integrity of the fuel transported to the trucks' or ships' compartments. This integrated system safeguards migrant quantities of fuel from the refinery to the consumer, easy to install and monitor providing safety and peace of mind!
ForFluid is suitable for the fuel industry as well as securing the integrity of delivery to numerous commodities including:
Water
Milk and dairy products
Vegetable Oils
Other liquid foodstuff and products
ForFluid can be installed on food grade tanker trucks as well as transport ships bunkers. The system's functions and characteristics remain the same and can be installed to various types of tanker trucks based on the customer's specific requirements.
ForFluid is a four part system unit to ensure electronic sealing and access control system for tanker trucks. Based on wireless sensor-nodes and built around our ATEX GPS-GPRS central unit, these sensors can be placed on every manhole, foot valve, discharge valve, main caps door and every spot on the truck that needs to be monitored and secured.
These sensors transmit every movement or displacement event together with the exact position of the vehicle and the time of the event. In case of communication failure, data is recorded and transmitted after connection is restored while any attempt to remove any of the transmitters, triggers an alarm.
For securing fuel deliveries, the ForFluid Wireless Sensor System is installed on specific points on the vessel or tanker trucks, electronically sealing and monitoring valves, flanges as well as Coriolis flowmeter. All data gathered is transmitted by wire to the system's Data Transmission Unit and from there, sent via satellite communication to the authorized recipients.

ForFluid includes four main system parts:
GeoLock CU: ATEX-GPS/GPRS Central Unit
ForFluid-FV: Securing Footvalves
ForFluidMH/MD/L: Securing manhole cover, main caps door, spout levers
ForFluid-WD: Monitors existence of fuel in discharge tube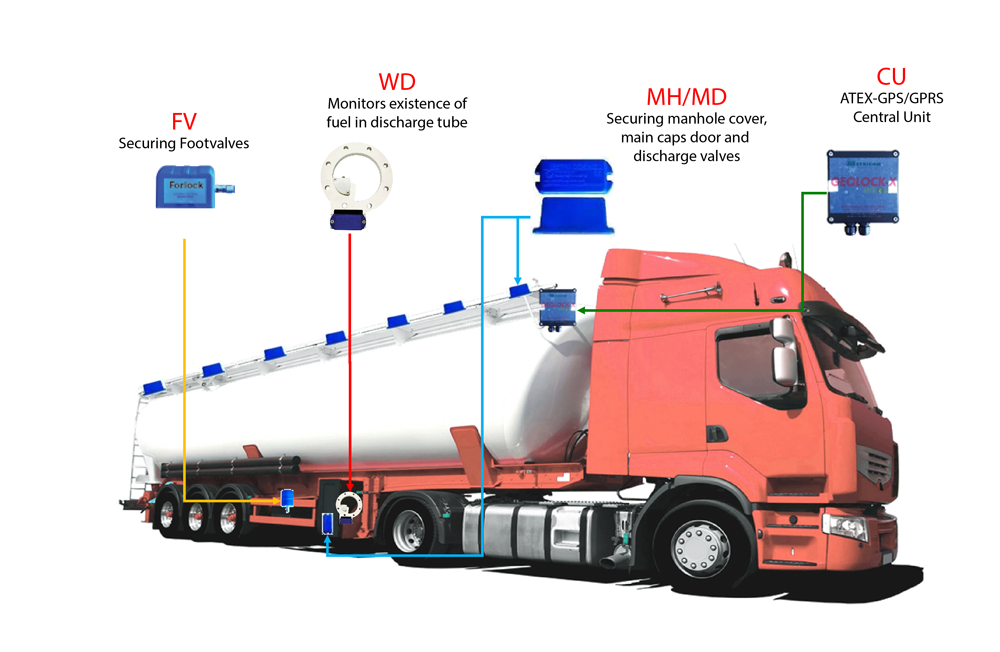 GeoLock-X
GeoLock-X can be easily installed in every tanker truck, carrying liquid products of any size and type. It is mounted externally on the upper part of the tanker truck cabin (tractor head) or on the tank of the tanker truck, thus making truck monitoring an easy task.
GeoLock-X is tamper-proof and any attempt to remove it from its place will result automatically in an "alarm" send directly via GPS/GPRS connection to an independent secure server where all monitoring data are being transmitted, processed by the server's database software and safely stored.  GeoLock-X is unique to its kind, incorporating state-of-the-art technology with long-life battery power. Special care has been taken to assure extended battery life with specialized power-management software.
| | |
| --- | --- |
| Wireless function vie IEEE 802.15.4 network connection and strong encryption of messages transmitted | |
| Information on real-time events and periodic updating of every compartment's current status | |
| Constant monitoring in real time | |
| Sensors battery life from 5 to 8 years (optimal usage) | |
| Detection of manhole cover openings 5mm | |
| Detection of wet indication in drain tube about 20% / 3mm valve opening | |
| Automatic adjustment with the vehicle is in a non-horizontal position | |
| Minimally invasive/ easy installation of sensors (pre-numbered sensors per compartment) | |
| Range covering the entire vehicle, capability of forwarding messages for trailers (using repeater) | |
| Saving all events per sensor in the absence of communication with the receiver | |
| Reliable access control | |
| | |
| --- | --- |
| Total sealing of respective fuel access points on the vessel | |
| Constant monitoring in real time | |
| Minimize operating costs and false alarms | |
| Double self-security feature (anti-tampering) | |
| Wireless Function | |
| Strong data encryption | |
| Internal memory for data/ "event" storage | |
| High sensitivity, detects slight cover openings | |
| Robust design | |
| Minimally invasive/ easy installation | |
| ATEX certified | |
| | |
| --- | --- |
| ForFluid sealing nodes transmit readings wirelessly to receiver | |
| Each sealing node is based on acceleration sensors and 3-axis magnetic field sensors | |
| The system is not disrupted by the use of magnets/ parasitic magnetic fields | |
| To detect access events from the manhole, the system is informed by sealing sensors in the manhole | |
| To detect whether or not fuel and fuel resides at the end of the delivery process is at each discharge valve, the system in informed by "WetDry" sensors installed at the back side of the discharge valve | |
| The "WetDry" sensor, except for fuel detection at the discharge port, also monitors the opening/closing of the discharge valve. Therefore the sensor has a dual role. | |
| Finally, messages are being transmitted by the central unit together with the geographical location (GPS) & in real time via 3G or GPRS to a central server. | |
| Customizable user friendly interface for producing event log reports for admin and a real-time view via google maps | |
| No cables necessary | |
| Over 10 years of battery life | |
| Accuracy up to 2mm | |
| Accuracy of 5º | |
| Works by measuring electromagnetic field intensity | |
| High security features | |
| High reliability features | |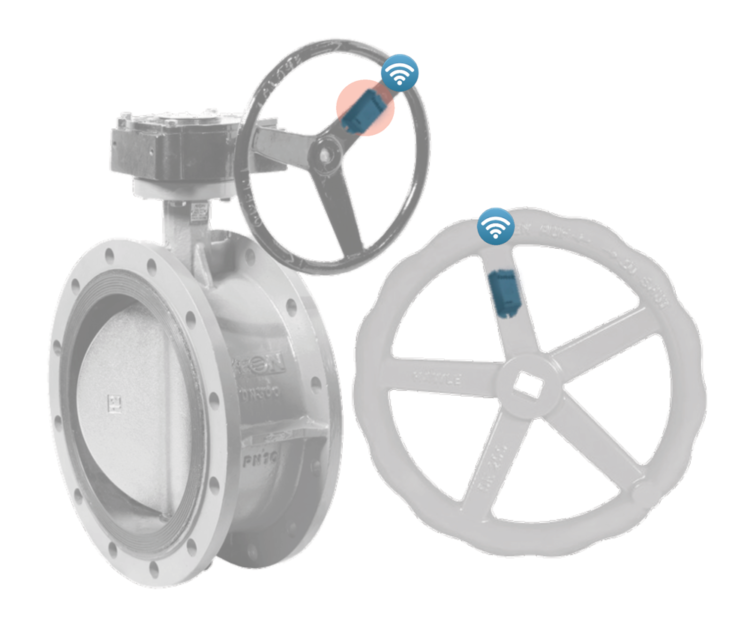 Call For Quote: 1.888.553.6783