Escalator Handrail UV-C Disinfection System
Our UVC Rail constantly disinfects escalator handrails and allows users to safely use the escalator without fear of contamination from pathogens
Call For Quote: 1.888.553.6783
The UVC Rail is a combination of two devices that are fitted at the entry and/or exit of escalators to disinfect the handrails from bacteria or viruses. Equipped with two UV-C lights, the UVC Rail utilizes UVC radiation 10 cm away from the handrails or escalators, enabling a thorough and continuous disinfection during standard operation. UV-C radiation has been proven to be the leading disinfection method to combat pandemic viruses. The installation of the UVC Rail will significantly decrease the risk of transmission of bacteria and viruses between individuals on escalators which transport hundreds if not thousands of people daily.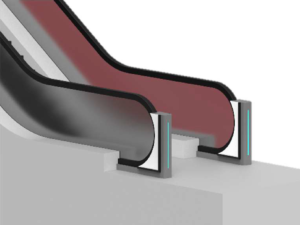 UVC Light Emitting Diodes: covering the entire spectrum of germicidal UV penetrate the cells and damage the nucleic acid, rendering them
incapable of reproduction, or microbiologically inactive.
No Human Exposure: Disinfection only occurs on the horizontal surface beneath the device so there is no human contact.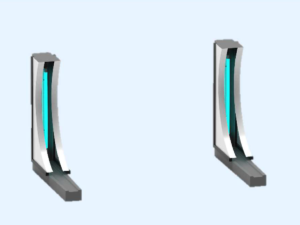 | | |
| --- | --- |
| Exterior Slits: which displays indicator lights that notify the operator that each of the UVC lights is operational or if it needs to be replaced. | |
| On/Off Switch: which is located on the bottom for precautionary measures during maintenance. | |
| Power Cable: for either integration into the escalator wiring circuit or to have its own electric circuit. | |
| Protective Skirting: which avoids any direct exposure to individuals passing through the escalator. | |
| Serviceable Access: for quick replacement of bulbs once it is required. | |
| | |
| --- | --- |
| Physical Specifications | |
| Dimensions (Extended)97 | 97cm x 20cm x 87cm* |
| Weight | 8kg |
| Electrical Specifications | |
| Power | 220V AC, 12V DC |
| UV-C Specifications | |
| Wavelength | 253.7 nm |
| Lifetime | 10,000 hours |
| Warm-up Time | Instantaneous |
| Certification | ASTM E3135-18 |
*Standard model dimensions- length, width, and height can be customized to fit a variety of escalators.
Call For Quote: 1.888.553.6783